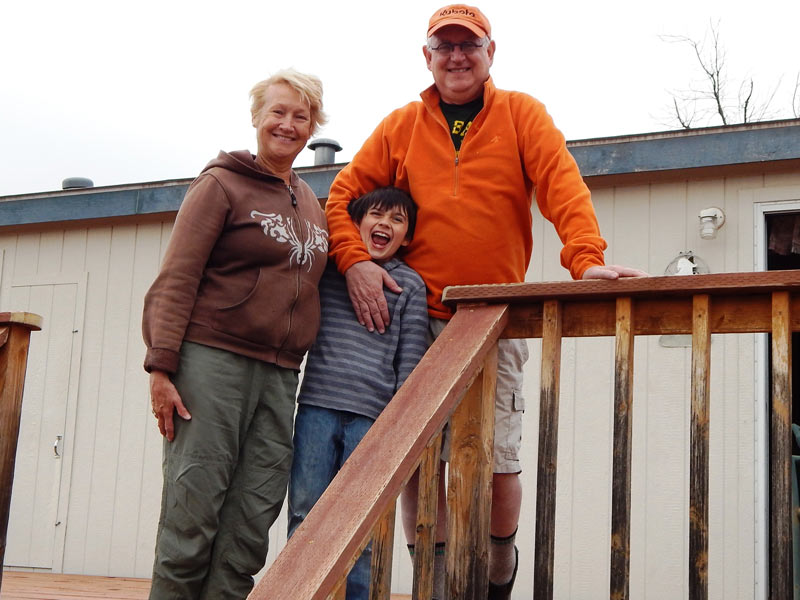 A Special Thanks to Some Skilled Volunteers
Major Projects Completed…A Special Thanks to Some Skilled Volunteers
Michael, Jeanne & Dylan Shafer
Jan and Joel Schreibman
Clarke & Kristen Davis
By Julie Dyson, Associate Director
July, 2015
So what do you visualize when you think of coming to volunteer at The Oasis? You are probably thinking that you will be up to your elbows cleaning bird poop off cages. Well, yes, there is plenty of that. A lot of volunteers are happy to do that. After all, the best way to spend time with the birds is to help the staff with their day to day care. But, we have volunteers who have used their skills to help in some other ways.
Michael and Jeanne Shafer plus their eight-year-old grandson Dylan, spent Dylan's winter vacation working at The Oasis in February this year. All three enjoyed leaving their Vermont winter for the radiant blue skies of Arizona. Michael's task was to remove and replace the large deteriorating deck outside the Oasis office/volunteer quarters. Thanks to their Sedona friends, Jan and Joel Schreibman, more hands were on deck to remove old rusty nails and to secure the original foundation. Jeanne introduced Dylan to the birds and, with the help of the staff he learned bird names, played with the guard dogs and learned how to feed all of them. Dylan's two favorites were Quasimodo, an African Grey, and Peaches, a Moluccan Cockatoo. When the Schreibmans' left, Jeanne helped Michael with the new deck boards while Dylan learned to drive a golf cart, bringing their needed materials. He even started his own cart service transporting several Oasis employees around the property. The week ended with a barbecue and the roasting of s'mores; Dylan was in heaven. All three fondly said goodbyes to staff, birds and warm weather. The Oasis staff members have fond memories of the Shafer's visit and a wonderful new deck to enjoy.
Kristen and Clarke Davis spent a weekend in March with us. If any of you have seen our staging area (sanctuary kitchen) in the past, you probably noticed all the buckets and tubs catching the water from all the old leaking pipes. Thanks to Clarke and Kristen, we don't have to deal with that anymore. In one afternoon, Clarke used his skills as a plumber to replace all the leaky pipes. He also installed a hand-washing station for us outside of the staging area. Clarke works for Universal Piping LLC of Phoenix. His company was very generous by letting Clarke use the company truck as well as paid for the truck fuel and the materials needed to make the repairs.
If you have a particular talent or skill that you would like to use to help us with special projects, just let us know. And if not, there are always those cages to clean.